Fair price and great work
Jamar was recommended to us by 2 trusted friends (separate jobs).
Jim (our sales person) was always great. No high pressure. Just looking to match our needs.
Windows were available in the timeframe quoted.
The installers were excellent! They arrived on time, got right to work, worked efficiently as a team and cleaned up well when they were done.
Greg, the head installer is a perfectionist and made sure everything was done 100%.
We highly recommend Jamar.
William Cubellis
Fantastic Experience With JaMar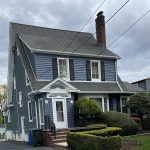 We had long been planning to get new siding on our home as well as to replace some windows and our back patio door and finally got this project going in early 2023. We decided to get 3 estimates and after some research and seeking recommendations on Facebook, we narrowed our list to 3 companies, with JaMar being on the top of the list due to many positive mentions and its long tenure in business. We reached out to the owner Jim and instantly liked and trusted him so much that we did not bother with obtaining any more estimates! Jim spent a lot of time at our home going over exactly what we wanted – the estimate was very detailed and reasonable. Jim sent us to see other homes in the 2 colors we were considering, which was very helpful. The work began about 4 weeks later – Jim's workers came right on time every day and worked incredibly hard all day. Jim came by every single day, which was great! The property was cleaned up each day! We are beyond happy with our "new" home and with JaMar, and very highly recommend this firm!!! This was a big project for us, and we were a bit nervous about finding the right firm, but Jim put our minds at ease! We will be using JaMar again in the future!
Renee Rao
Use these guys!
I just like the way Jamar does business, no problems, you call they come, everything's easy, the crew they send are all pros, they're respectful of your house and they do the job right ( I know because I watch and they don't hide poor work behind the trim everything's done right ) they clean up when they're done and is like they were never there. One of the guys even offered to move all the furniture back that I had moved so they could work.
These guys will be back at my house.
John Palomba
Jamar did a great job
Jamar did a great job on our windows and door installation.
Pete Curci